2020 5th International Conference on
Biomedical Signal and Image Processing
August 21-23, 2020
Suzhou, China
Submission Deadline:

Before March 30, 2020

Notification of Acceptance: On April 20, 2020
Registration Deadline: Before May 10, 2020
Conference Date: August 21-23, 2020
Authors can attend the conference with paper publication or without publication. For paper publication, full paper should be submitted. For presentation only, abstract should be submitted.
icbip@cbees.net

+852-3500-0799 (English)

+86-28-86528465 (Chinese)

Ms. Zero Jiang

Monday-Friday, 9:30-18:00
Organized By
Suppored By

Prof. Andrey Krylov
Lomonosov Moscow State University, Russia
Andrey Krylov received the M.S., Ph.D., and Dr. Sc. degrees from the Faculty of Computational Mathematics & Cybernetics, Lomonosov Moscow State University (CMC MSU) in 1978, 1982 (supervisor – academician Andrey Tikhonov), and 2009, respectively. He was a member of scientific staff (1981-1988), senior researcher (1988-1998), head scientist (1988-2003), associated professor (2003-2009) CMC MSU and he is currently professor, head of the Laboratory of Mathematical Methods of Image Processing (http://imaging.cs.msu.ru). During his career he worked in applied mathematics in areas of nuclear physics, physical chemistry of liquid systems, multimedia and biomedical imaging. In 1989 he received the Leninsky Komsomol Scientific Prize - the highest prize for scholars in the USSR. He has authored or coauthored over 150 published papers. He served as a reviewer for several international journals and conferences; he was in the board of international and national conferences. For a long period of time he is one of the organizers of the GraphiCon conference - the main international computer graphics, computer vision and image processing conference in Russia.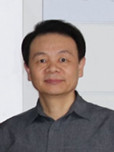 Prof. Yue Dai
East China Normal University, China
Dr. Yue Dai obtained Ph.D. degree in neurophysiology from University of Manitoba, Winnipeg, Canada in 2001, and then he did post-doctoral research in the Department of Physiology and Biophysics at University of Washington, Seattle, USA. He also received Master of Science in applied mathematics from University of Manitoba in 1996 and Bachelor of Science in computational mathematics from Yunnan University, Kunming, China in 1982. From 2003-2013 he worked as a senior research scientist in the Spinal Cord Research Center at University of Manitoba. In 2014 he was appointed to the Zijiang-scholar professor by the East China Normal University. Using combined approaches of electrophysiology and computer simulation Dr. Dai has been engaged in interdisciplinary research across neurophysiology and bioinformatics for more than 17 years. His research focuses on the cellular properties and channel mechanisms underlying locomotion and has made some important discoveries in this field.
Copyright (c) 2020 www.icbip.org. All rights reserved. ICBIP 2020.